From
here
:
Quote:
Amazon has won a patent to create a virtual marketplace where users could resell digital content like apps, songs and ebooks. But itís unclear whether such a marketplace would be legal under current copyright law.
What this means is that if someone downloads your book, they could use this marketplace to re-sell it to someone else, money for this going to them rather than to you in the process--just like reselling a used paperback at a flea market.
__________________
3113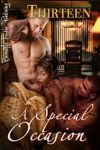 "You don't go up there to fish!"
--
Brokeback Mountain
Why do writers write? Because it isn't there.
--
Thomas Berger