Greetings, fellow writers,
This is to let you know (in case you don't) that there is a poll up deciding what the contest theme will be for Spring 2015. If you have not already voted, we urge you to do so. There are five choices, and this is your chance to decide which of them you think would best inspire you to enter such a contest.
The poll can be found here:
http://forum.literotica.com/showthre...1#post59858735
__________________
3113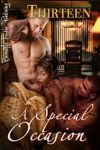 "You don't go up there to fish!"
--
Brokeback Mountain
Why do writers write? Because it isn't there.
--
Thomas Berger