Not too long ago there was a thread about a bra that knows when the wearer is interested and pops open (and if she's not, there's no getting it off)...now, this.
Quote:
Fundawear was designed by another of the SXSW panelists, Billie Whitehouse, whose firm is called Wearable Experiments. The prototype Fundawear samples are close-fitting black undergarments equipped with tiny haptic electromagnetic vibrators, which produce a momentary sensation much like piezoelectric-based units used to create the quick vibration in a smartphone when a key is touched. The units are strategically installed in the garments—in the female version, in both brassiere and panties—to make contact with sensitive regions of the body. When the wearer's partner touches his or her smartphone—the sensitive regions are helpfully indicated on a template on the phone's screen—the wearer feels a gentle frisson, or even a light stroke, depending on whether the partner has touched or swiped the screen.
Looks quite sexy:
More here:
http://spectrum.ieee.org/tech-talk/c...ampaign=031314
__________________
3113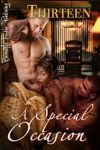 "You don't go up there to fish!"
--
Brokeback Mountain
Why do writers write? Because it isn't there.
--
Thomas Berger